Hello snowmobilers,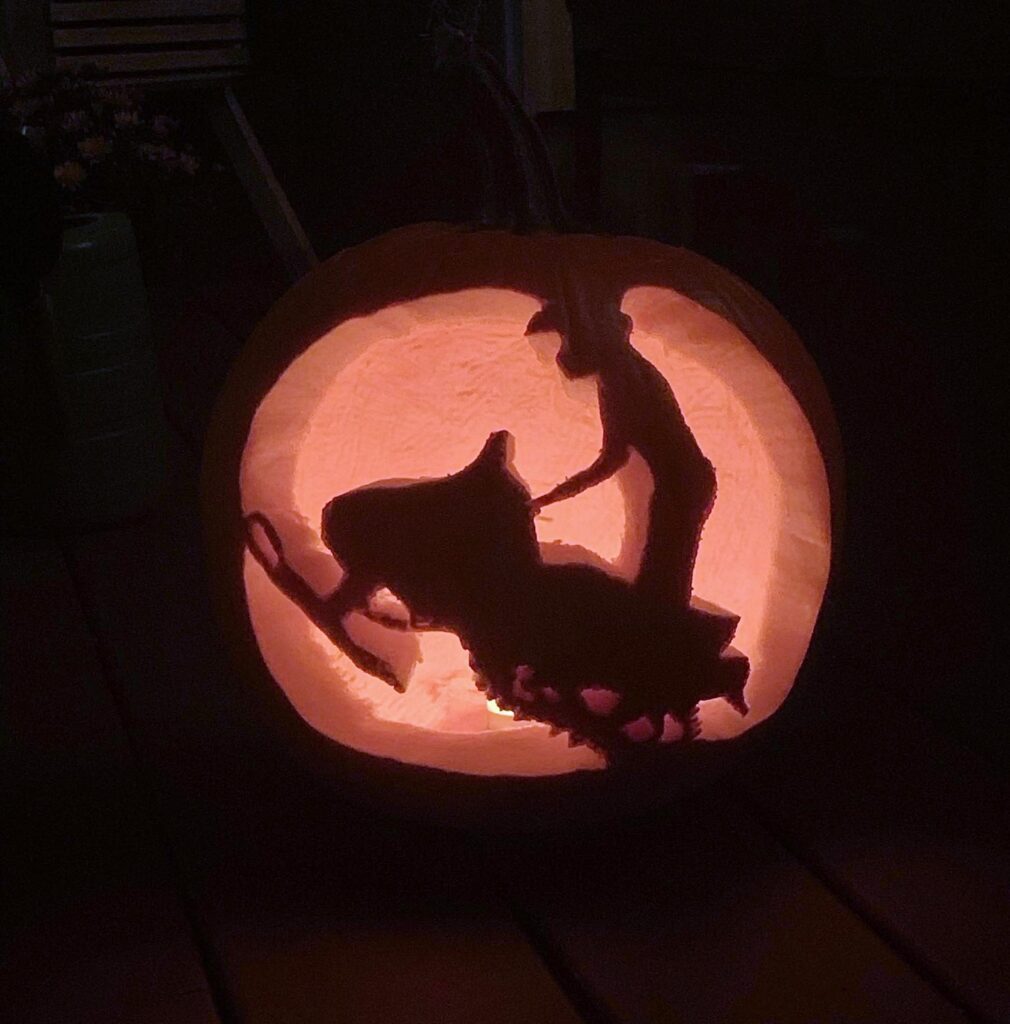 Isn't this Jack-o'-lantern fantastic! Annaliese Dionne is very excited for snowmobile season, so in anticipation she carved this super cool pumpkin. Great job Annaliese!

October's Monthly Meeting highlights:

Club Secretary, Diane Fisher, reported that currently there are;
1,069 Regular members
53 Business members
666 Snowmobile Raffle Tickets sold

Club President, Curt Shaw, reported that he heard this week that our
new groomer has been shipped, and it will be arriving at the Portland harbor.

Curt also informed us that the 2021 – 2022 trail system will be just about the same as last season's. Smith Brook and the Buckhorn trails will remain closed, but we might have a couple of other trails open. We'll keep you posted.

Trail Work Party scheduled for Saturday, October 23rd.
The Work Party day is in the final stages of planning. Curt and David Ainsworth have marked up trail maps for the work crews. Volunteers are to meet at the club house at 7:30am.
We had a great volunteer turnout last year and lots of work was accomplished that day. To put your name on the Volunteer List, please contact Curt via email –

[email protected]



There is a crew that will be here this Saturday to replace the decking on the River Road Covered Bridge. They had prior commitments on Oct. 23rd, so they decided to come up this weekend instead.

BOD, Justin Webber, reported that the Ridge Runners booth at the Grass Drags, had a very busy weekend, selling memberships, raffle tickets and clothing. Debby Pawlendzio, Jamie Cook, Rodney Jenkins, Ken Paul, Steve Pease, and Greg Parcell were great Pittsburg Ridge Runners ambassadors with lots of energy and excitement for the snow to fly. Thanks to all the volunteers!!

The Annual Volunteer, Landowner & Grooming Crew Dinner has been scheduled for Thursday, December 9th.
Where: The Spa Restaurant, West Stewartstown.
Time: 6:00pm Cocktail Hour & 7:00pm Dinner Buffet.
RSVP by : November 25th.
Please contact: Diane Fisher –

[email protected]

or call 603-538-1142.

Upcoming Monthly Meetings

November Monthly Meeting – Thursday, Nov. 11th – 7:30pm at the Clubhouse.
December Monthly Meeting – Thursday, Dec. 9th. The monthly meeting will follow the Annual Volunteer, Landowner & Grooming Crew Dinner at the Spa. See above info.
Tomorrow, October 16th there is a Multi storage unit yard sale hosted by PRRSC with 100% of proceeds to benefit Easter Seals Camp Sno-Mo for disabled children. New and unused items to include household, kitchen, bed, bath. Paper goods , office supplies, glassware, sporting goods, books and games. Men's clothing to include PJ's, underwear, socks, tees, sweatshirts, pants, shorts, socks, gloves, hats and footwear. Buckets, plastic containers and coolers in multiple sizes.
This is a BIG one not to be missed and benefits a great cause! No reasonable offers refused, cash only. Rain or shine

Bake Sale to benefit Camp Sno-Mo at Young's Store.
Corinne Howland reported that the Bake Sale was a great success. We would like to thank everyone that helped out – the bakers and everyone that worked the bake sale. Also, thank you Young's Store.
Over $1,000 was raised for Camp Sno-Mo!!

The Annual Christmas Craft Fair is scheduled for Saturday, November 27th at the Club House. This is another fund raiser for Camp Sno-Mo.
Corrine is also selling Raffle tickets with 3 great prizes. Check it out below. Corinne's quilt is beautiful!
HAPPY HALLOWEEN!! Looking forward to seeing you all very soon. Stay safe