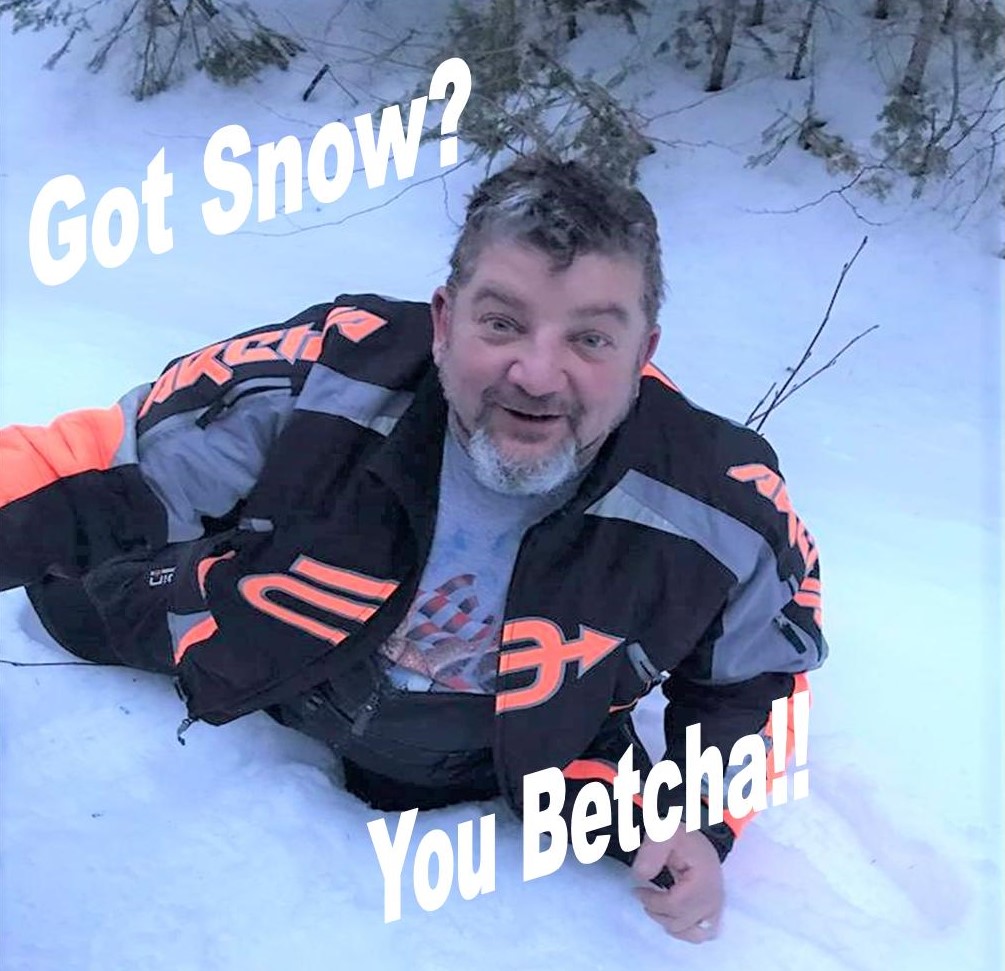 Joe Dykers suggests "Don't step off the trail!"
Kevin's latest Trail Report
"Although it might not look like spring out there we have a feeling it must be getting close.
Pretty likely that we ran our last shift overnight with the one and only David Ainsworth at the controls.
Dave reported back that all the trails are in excellent condition considering that it is spring. There is very little traffic and the trails are staying flat.
All the groomers were brought back to the groomer garage because we need to bring them back while there is still snow to run them on.
First of all I would like to thank my operators for another season of hard work, commitment and positive attitude. These guys under normal circumstances burn the midnight oil so you the snowmobiler can enjoy your days here in God's Country. Working 10-12 hours or more in the darkness can make you feel more like a zombie than a human after multiple shifts in a row. But as I said before "we do our best work in the dark".
Second, thanks to our landowners, the vital link between public and private lands. In almost all cases privately owned land connects each and every trail. It is a wonderful privilege to use your land to maintain our vast trail system.
Third, thanks to our mechanic, Richard Howland who has been the clubs seasonal (November to May) full time wrench for at least 15 years and I think actually longer. We work our equipment hard and he spends his days in the "Bully Barn" keeping them in great health and always ready to roll.
And a huge thank you to our club Secretary Bev Lord. Bev is our trails administrator who handles all memberships, any and all GIA billing and the all important payroll for the staff.
Looks as though our oldest Bully, #10 has found a new home in Maine and will be replaced with a 2019 Pisten Bully 400 in late summer or early fall. She has served us well for 9 seasons and 5900 hours. In groomer life that calculates out to approximately 41,000 miles of trail groomed!! That's certainly a couple runs.
We are hoping each and every one of you enjoyed you winter in Pittsburg!
There is still plenty of flat, hard spring riding left."
GR10 signing off.
Kevin Lassonde Grooming coordinator.
This Thursday is our last Monthly Meeting of this snowmobile season.
7:30 – at the clubhouse. Hope to see you there.
Our next monthly meeting will be on September 12th.
From all of us at the club house, thank you all for supporting the PRRSC.
Have a great Summer playing on your warm weather toys.
See you next season.