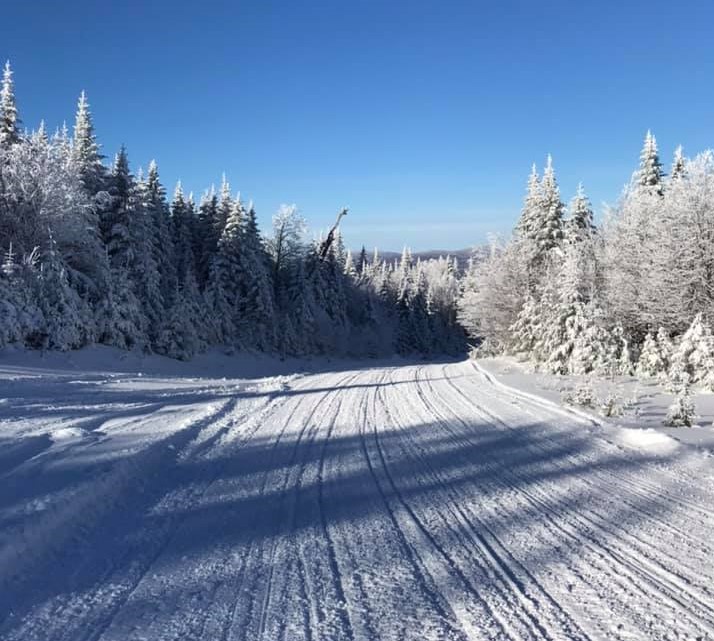 Smoooooth Trails!
Photo – G. Ford
Kevin's Trail Report dated Wednesday, Jan. 16th
"After the most recent snowfall last week our groomers have been working steadily to process the snow and make the trails as close to flawless as they can.
The weather forecasts are predicting snowfall starting this evening and basically running right through Monday morning with varied precipitation amounts each day. Keep in mind that new snowfall on a weekend is not always the best thing for our trail system. It takes days after the storm stops for us to groom everything out, reshape it and get it all to freeze for the hard flat trails that you are usually used to.
Along with new snow our forecast is predicting frigid temperatures and extreme wind chill factors. Remember to dress in layers. Dress appropriately for the weather conditions and prepare for the unexpected.
Our trail map remains the same. The remainder of the trail closures shown in black marker will be that way until further notice.
Hopefully everybody will have a safe and enjoyable Holiday Weekend with us in Pittsburg."
Kevin Lassonde, grooming coordinator.
CLUB NEWS
The Snowmobile Blessing was well attended last Saturday with over 80 riders despite the bitter cold temperatures. Thanks to Pastor Feustel and everyone from the Farnham Memorial Church that organize this annual event.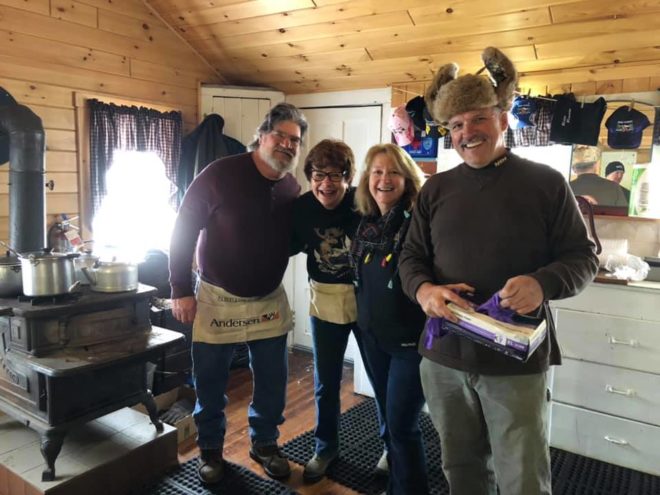 It was a busy day last Saturday at the Warming Hut. Brynn, Sue, Cathy & Terry provided hot food and a few good laughs to some cold and hungry snowmobilers.
Here's what's happening at the Hut this weekend from Bob.
"This will be a busy weekend in The 'Burg. With the MLK holiday on Monday, we're expecting a lot of folks to be visiting us at The Hut. Trails couldn't be better with snow in the forecast for the next few days!
Irene, Sue, Rob and myself will be your hut hosts this week and we've got some good hot food waiting for you. We will be serving our signature Turkey Soup, Anita has made us her Beef with vegetables and barley soup, we have hot dogs, hot and cold drinks, fresh baked goodies, chips and candy. We keep a supply of PRR hats and maps on hand too.
So, if you're enjoying the best trails in NH, (The PRRSC Trails, of course!) Stop up and visit us at The Hut! We're right off Corridor 5 in the northern part of our trail system and we're here from 10am to 3pm on Saturdays."
Reminder -The Connecticut Lakes Headwater property which encompasses most of our northern trail system has a conservation easement on it that restricts riding to designated trails.
1/19 – Saturday, The Warming Hut will be open from 10 to 3.
Serving up hot soup and the best hot dogs north of Fenway.
1/26 – Annual Turkey Dinner
5:00 to 7:00 pm at the PRR Club House. If anyone has a turkey to donate we would certainly appreciate it. The dinner is a fund raiser for our Scholarship Fund.
Don't forget about Melvin! Where, oh where will he be?
See you all soon and
Think Snow!