Winter has arrived!!
Kevin's Trail Report for Wednesday, Jan. 9th
"We have received 4 to 6 inches of new snow over the past two to three days and it is still snowing at this time. They're predicting up to another 6 inches before this ends.
We would like to announce that we have some really good news for snowmobiling on the East side of our trail system!!!!!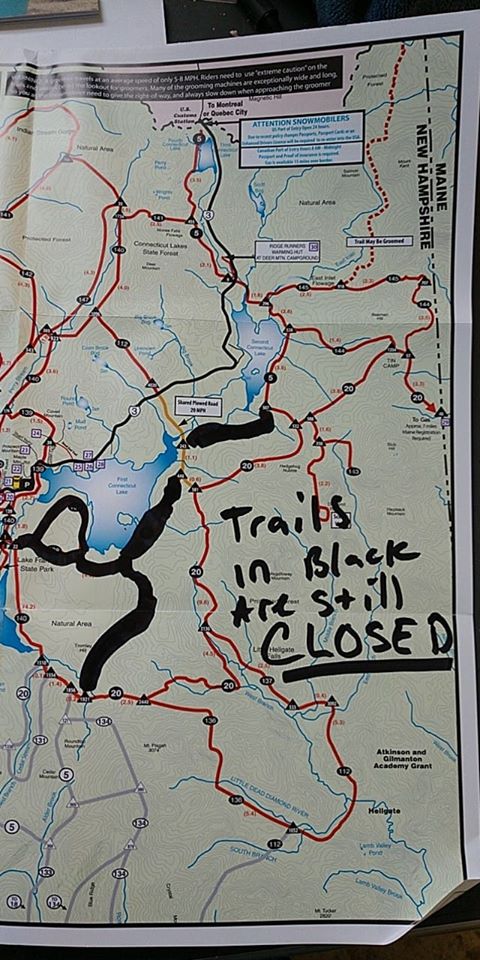 Here is the updated trail map which shows what has been opened as of now. The remainder of the trail closures in black will be that way until further notice.
Groomers have all been running nightly keeping the trails very nice.
The colder temperatures will help set things up for the weekend for some excellent riding!
As always be responsible, be respectful of others and enjoy your stay with us here in Pittsburg,NH."
Kevin Lassonde, Grooming Coordinator.
Reminder -The Connecticut Lakes Headwater property which encompasses most of our northern trail system has a conservation easement on it that restricts riding to designated trails.
There are a couple of things happening in Pittsburg this weekend.
Check it out…..
1/10 – Thursday, Pot Luck Dinner at 6:30 and Monthly meeting starting at 7:30 at the Club House.
1/12 – Saturday, 6th Annual Snowmobile Blessing at Granite State Power Equipment, 9:00 to 11:00.
1/12 – Saturday, The Warming Hut will be open from 10 to 3.
Stop in to visit Sue, Brinn, Kathy and Terry who will be serving up hot soup, chili and the best hot dogs north of Fenway.
1/26 – Annual Turkey Dinner
5:00 to 7:00 pm at the PRR Club House. If anyone has a turkey to donate we would certainly appreciate it. The dinner is a fund raiser for our Scholarship Fund.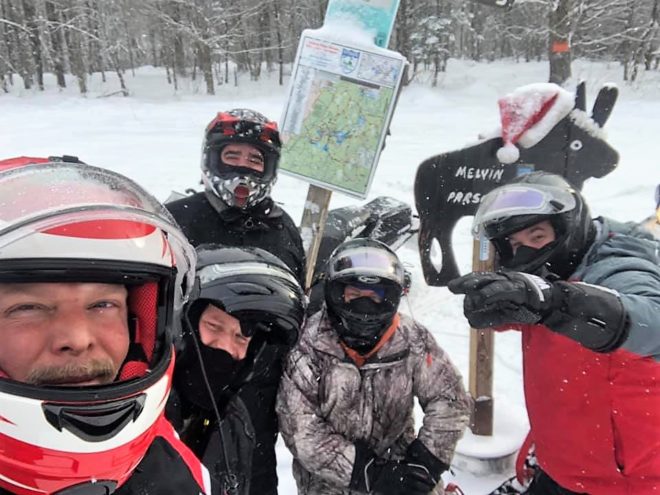 Don't forget about Melvin! Where, oh where will he be?
See you all soon and
Think Snow!