Trail Report – David Ainsworth, Grooming Coordinator
"We got 3 inches of new snow Monday night and Tuesday. Four groomers ( 1 loaner) went out on Tuesday. at the moment we have 1 groomer down. Trails north are in good shape, with good snow cover. Trails towards town still have some spots that need more snow cover. Corridor 20 to Beecher Falls was groomed Tuesday during the day. Around the hub area is in good shape, with heavy traffic at times. We hope to have all groomers running again soon."
TRAIL CLOSURE UPDATE – NH Corridor 5 and Primary Trail 139/140 between Jct 539 and 139 will be CLOSED on Friday Morning 2/11/2022, from 4:30 AM – 8:00 AM. See map below. There will be another closure next Monday and Tuesday as well.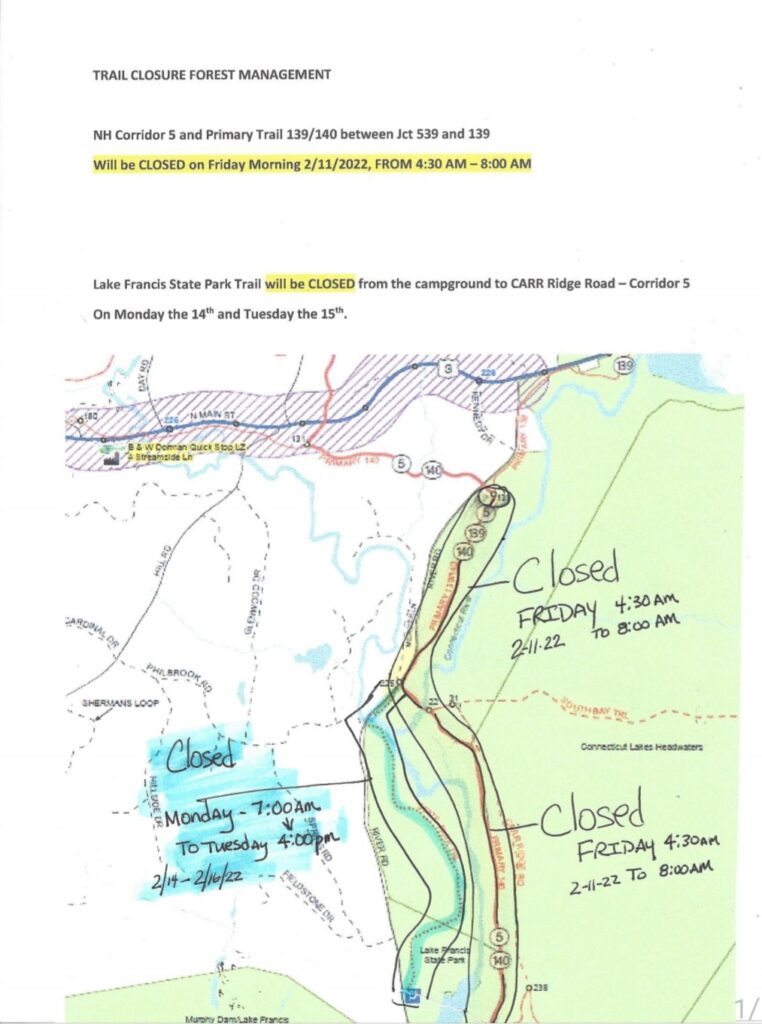 Club News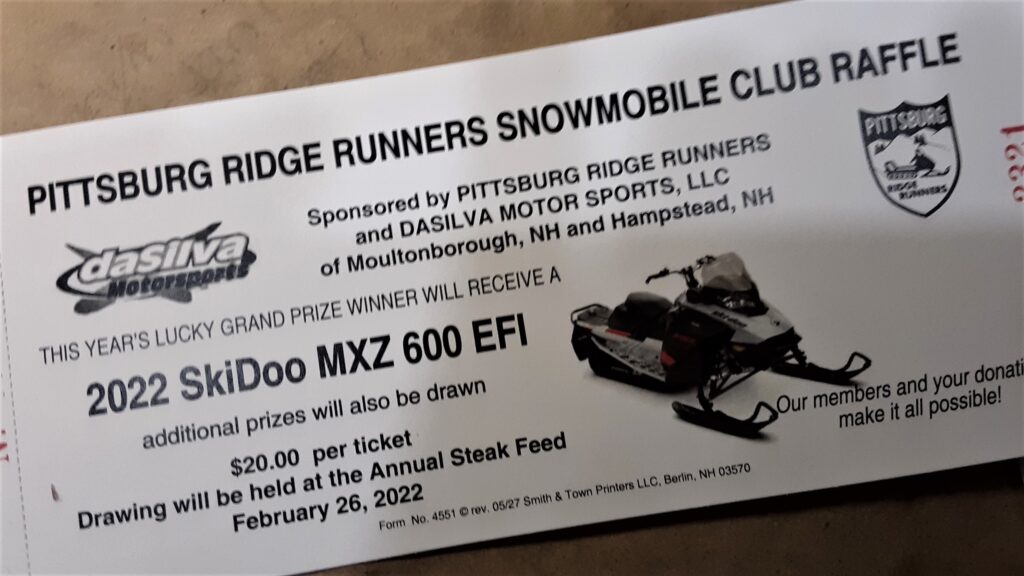 We still have plenty of Snowmobile Raffle tickets For Sale. Drawing will be Saturday, February 26th, at 4:00PM. You can buy your tickets at –
Ramblewood Cabins , Young's Store, Tall Timber Lodge, Bear Rock Adventures and The Warming Hut on Saturday and at The Club House in the mornings or you can call Diane at 603-538-1142.
The Club House Warming Hut was busy again last Saturday, with lots of yummy food being served up. Full Send provided a delicious Broccoli Cheese Soup and Cathy Boutin of Partridge Cabins made amazing Cannolis. What will be on the menu this Saturday? You need to stop by.
The Warming Hut will be open this Saturday from 9:00AM to 3:00PM.
Upcoming Events –
2/10 – Tonight – Thursday, Pot Luck Dinner 6:30, followed by the Monthly Meeting – 7:30
2/26 – Saturday, The Annual Steak Feed & Sled Raffle, 4 to 7 pm at the Club House. Reservations are required. Call 603-538-1142 or email –

[email protected]

The raffle sled drawing will be held Feb 26th at 4PM.
3/4, 5 & 6th, NH Free Snowmobile Weekend
3/12 – Saturday, 2nd Annual Great North Woods Vintage Snowmobile Ride.
Enjoy the new snow this weekend. Please ride safely, keep right, and enjoy the trails.