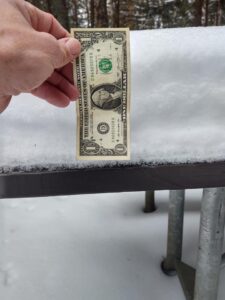 Kevin's Snow Report – December 20th, 2020
Well folks it looks like mother nature is continuing to act as she has been for the past month. We're hoping to get some snow in the future but it's not looking good in the long range forecast for the next week or two.
As I had said before it's going to take 12 to 18 inches to even get things started and we only have four or five on the ground at this time.
Kevin's Snow Report – December 21st, 2020 –
So I ventured North to the deer mountain campground which is also usually the warming hut
As you can see from the photograph there is 7 inches of snow on the picnic table judging by the dollar bill which is 6 inches tall.
Limited snow cover considering it's late December, and with the upcoming warm weather this week and rain doesn't look like that's going to help the situation at all.
From all of us at the club we're wishing each and every one of you a safe and happy holiday season and as soon as the weather turns around to our benefit we will give you another update as to when something may open up for this year's snowmobile season.
Kevin Lassonde, grooming coordinator.