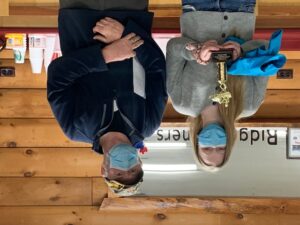 Emma Putnam, Junior Snowmobiler of the Year Award and PRRSC groomer driver & BOD, Dave Ainsworth.
At last Thursday's Monthly Meeting Dave Ainsworth presented Emma with this very well deserved Award.
The Pittsburg Ridge Runners Snowmobile Club would like to congratulate Emma Putnam for being chosen as the 2020 NH Junior Snowmobiler of the Year.  Emma is eleven years old, the daughter of Andrew Putnam and lives in Landaff, NH.  She has been supporting our club and others for many years. 
Recycles cans and the money she gets she donates to the Pittsburg Ridge Runners for grooming. She has done this for a number of years
Constantly keeping track of what our club is doing.
She helps put up and take down snowmobile signs for Connecticut Valley Snowmobile Club
Roadside cleanup
Delivers poinsettias for Bath Women's Fellowship at Christmas for all the shut ins in town
Volunteers at Second Chance Animal Rescue Shelter – last 2 birthday parties she requested all gifts and money be donated to animal rescue
Spends a lot of time with her 80 year old great grandparents at their blueberry farm helping them trim bushes, run the mini-excavator, run the cash register and help customers
Emma was presented a jacket with her name embroidered on the sleeve and a trophy by Dave Ainsworth, one of our groomers.  Emma and her whole family have been supporting the Ridge Runners for many years.  Emma bakes sweet treats for the groomers, and when they groom the trail by her house in Pittsburg, she brings them homemade cookies and brownies.
Congratulations Emma and thank you and your family for all your support!!