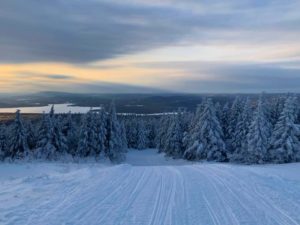 E Flower photo
Kevin's Trail Report – 2/11/2020
"Hello fellow Ridge Runners-
We've received 10 to 16 inches of new snow over the past 3 to 5 days.
Groomers are out running mostly night shifts but some day shifts to fill in the gaps that we have due to mechanical repairs that may need to be done.
Trail conditions have dramatically improved with the new snow and the colder weather to help set it up. 
It's just what we needed to make things that much better here.
At this time all trails would be rated good to excellent and mainly excellent in all northern areas.
The weather predictions are showing snow and flurries over the next 3 or 4 days and cold temperatures at night.
Come on up and enjoy some amazing February riding!!!

Don't forget to visit the Ridge Runners Warming Hut this Saturday from 10 to 3. 
All proceeds raised that day will be donated to the Pittsburg Fire Department to help fund their rescue efforts and equipment.
PFD members will be on hand  with the rescue equipment and will be happy to answer any questions you may have."
Kevin Lassonde, Grooming Coordinator PRRSC
Things happening this week & Up Coming Events –
Thursday, Feb. 13th, Pot Luck dinner @ 6:30 & Monthly Club Meeting @ 7:30.
The Warming Hut will be open this Saturday from 10:00 am to 3:00 pm. PFD will be there. Come help fill the boot!
Saturday, Feb. 15th, The Back Lake Shootout, on Back Lake. Check it out!
Saturday, Feb. 22nd – Spaghetti Dinner Fundraiser at the PRRSC Club House to help out some local friends. 
Saturday, Feb. 29th – PHS Poker Run. Theme – Wizard of Oz.
Saturday, Feb. 29th – Annual Steak Feed & Snowmobile Raffle, 4:30 to 7:00 @ the Club House.
Look who found Melvin! 
If you find him on the trail don't forget to get a selfie and post it on our Facebook page.
Coming March – 6, 7 & 8th…..
Open Snowmobile Weekend in NH 
The Parade of Lights! Saturday night- March 7th.
Ride safe and see you on the trails.