Patricia Kuncio photo
Hello Snowmobilers,
First off we would like to thank all the volunteers that participated in the Work Party on Sept. 14th.
Approximately 20 people cleared brush and overhanging branches to increase visibility at many of the trail intersections.
Thanks to – Donald DeBoisbriand, Shawn Lundrigan, Tom Fuller, John Fisher, Tim Faidell & Dillon , Scott Blodgett & Hope,  Michael Worcester, Curt Julian & his wife, Jason Hall & Brady, Al Beaulieu & Tally.
Also, the Cedar Stream and Bog Branch bridges were repaired by Roger Lemire, Matt Morris and Curt Shaw. It was a big job but they got it done.
Nice job everyone!
The drags did not get painted that Saturday because of bad weather but they have since been painted by Curt.
We would like to thank Anthony Young for donating the paint for the drags. 
New Trail Signs –
At last Thursday's monthly meeting BOD Dave Lawrence presented the membership with samples of the new trail signs for the PRR trail system.
The signs are brown, orange and have the blue PRR logo.  Dave and Curt installed the first set last week.
They look sharp! 
What a big improvement to our trail system. It's a work in progress and we'll keep you posted.
New Groomer –
Our NEW groomer has arrived in Lewiston, Maine and will be arriving in Pittsburg soon.
The groomer operators can't wait to smell that New Groomer Smell again.
The Bake Sale –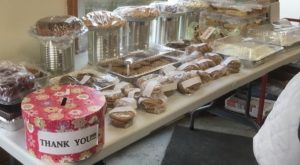 Corinne Howland put together another very successful
 Bake Sale
 this past Saturday at
 Young's Store 
with the help of Helga Ziegler, Brenda Wirein and Cathy Swain. Thank you ladies!
Thanks you Young's Store and all the bakers
that donated lots of delicious treats, breads, cakes, pies, baked beans and chili. 
Thanks Corinne for another great bake sale and thanks to all the generous customers. 
The Grass Drags –
Unfortunately we did not have enough volunteers to attend the Grass Drags this past weekend. Hopefully next year we can get organized and we'll be there like so many years in the past.
Thursday, November 14th – Monthly Meeting, 7:30
Saturday, Nov. 30th – Annual Christmas Craft Fair to benefit  Camp Sno-Mo
We hope to see you all soon.