Trail Report –
"As for the trails the groomers are still running full-bore we have plenty of hours left to continue grooming throughout the month of March and hopefully into the first week of April. 
Conditions right now are even better than mid-February conditions!!
We have plenty of snow and with warmer days, cold nights and pretty much anywhere you want to ride during the week right now will be better than 100% perfect.
With any luck we will get continued cool temps at night and the weekend riding will be just as good.
What are you doing this week??
Last Weekend's recap –
It was a phenomenal end of February vacation week with the rebirth of Snowfest which was a huge success.
Snowfest can only get better in the years to come. In my mind it's more than just a snowmobile show now, it's more like a winter trade show that will focus on many aspects of what our visitors, second home owners and local community are looking for, from new snow machines, apparel, builders, artisans tradesmen etc.
Hopefully next year's Snowfest will grow in size with more to see and experience.
Last Saturday evening the Pittsburg NH Firefighters' Association hosted the first annual 
Parade of Lights on Back Lake.
This event was sponsored in part by the Pittsburg Ridge Runners Snowmobile Club and Kassborher All Terrian Vehicles/Pisten Bully. 
If any of you out there were able to attend this event you all know how much fun and what a success it was. 
What a beautiful sight to see 156 snowmobiles with their headlights covered in red parading around the lake two by two and then split off one by one to create a huge heart shaped formation on the lake after dark!!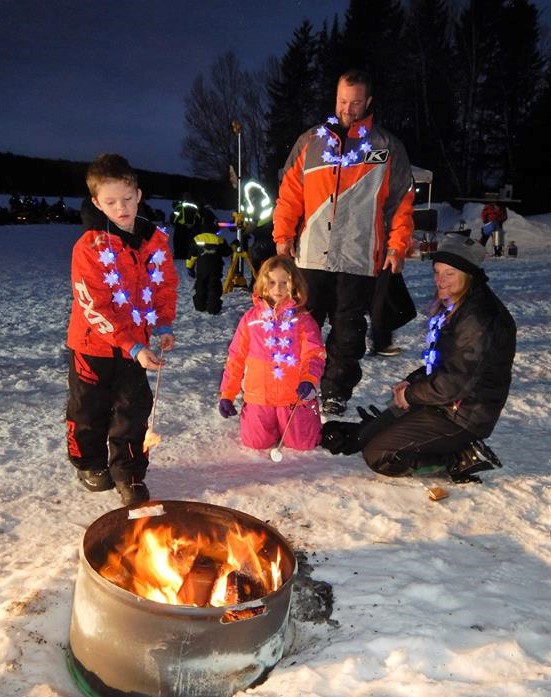 There was music playing and fire pits blazing to roast hot dogs, make S'mores and to just hangout and warm up.
Kevin Lassonde grooming coordinator/BOD PRRSC
3/9 – Warming Hut, at Deer Mountain Campground. Saturday from 10:00 to 3:00
will be held in Pittsburg on Friday & Saturday.
3/14 – Pot Luck Dinner & Monthly meeting. 6:30 to 8:30
Ridge Runner club house.
See you all soon. Ride safe and have fun in Pittsburg.