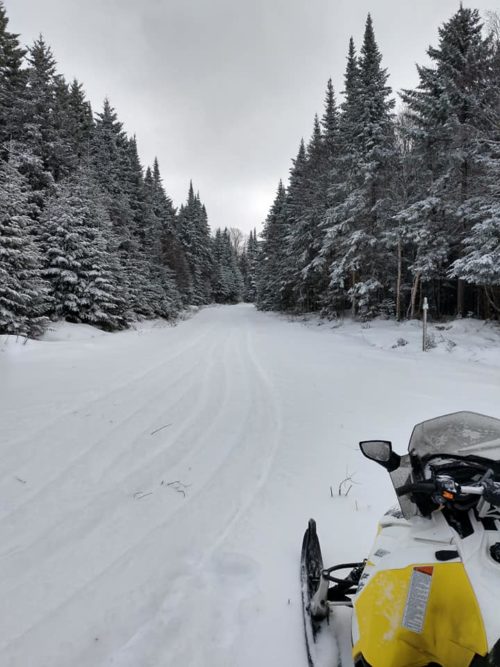 This morning four of us went out and did assessment of the trail system.
The findings were much better than we expected.
First off I will say that we lost an awful lot of snow but we did receive two to four inches of coverage overnight.
The majority of the currently open trail system is in fair to good shape from First Connecticut Lake northeast and west.
Everything that we rode was as flat as a pancake and also as hard as concrete.
Underneath the new snow the conditions are definitely icy and quite slippery in many areas.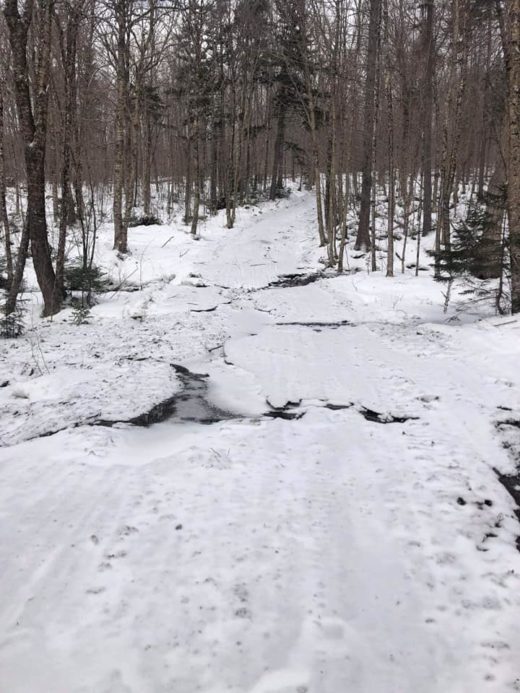 We did encounter a few open water bars that were bare ground before the new snow and some water still flowing across the trails but it was very minimal and should be receded by morning.
At this moment I'm reaching out to a few landowners in the Back Lake area to determine whether we will open up access from the Back Lake area to allow people to ride to get gas etc if they want to.
Update! Trail access to services has been granted.
Limited snow cover.
Remember, thank a landowner!! They are the vital link that keeps us connected!!!!
My recommendations are that everybody trailer their snow machines to either;
* the Cunningham parking lot just below Magalloway Road
* the Coon Brook parking lot across from Magalloway Road
* the large parking areas at Deer Mountain Campground and Sophie's Lane.
Keep in mind anything that was previously closed still remains as such.
We definitely will have as many as three groomers heading out first thing tomorrow morning to start to scratch at and grind up the underlying ice layer.
I want to urge everybody to use extreme caution on any and all of our trail system that will be open.
There will be a picture of a map posted as to what is closed still and that will be in Black marker.
We have definitely gone backwards from where we were at last weekend and midweek. The trail system will continue to improve if we receive some more snow. Keep in mind grooming operations will still be during the day for the majority of the week with the exception of Christmas Day where nobody will be out grooming at all.
Wishing everybody a safe and Merry Christmas and a Happy New year.
Our system will be back open as of 7 tomorrow morning!!!!.