Hello Snowmobilers,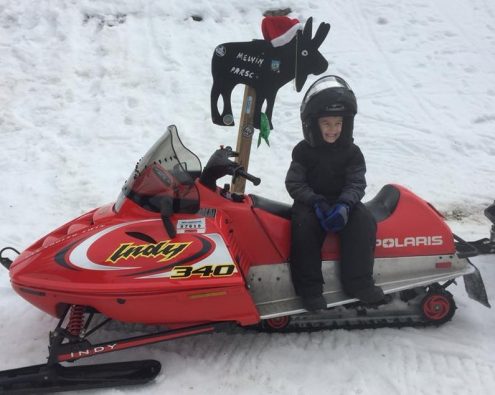 That's one happy rider!
He not only found Melvin, he rode 100 miles with the big boys too!
Welcome to the Club young man.
Trail Report 3/6/18

"After a long and grueling week of unplanned repairs all 4 of our bullys are back out ready to work on the trails.
Current conditions are;
South of Pittsburg Village = Fair.
The Back Lake area to First Lake = Fair to Good
Most of the rest of our trail system I would rate = Good to Excellent.

They're predicting some snowfall starting Wednesday night(another Nor'easter) with many different predictions on amounts. Even if we get 5 to 6 inches it will drastically improve the riding conditions in all areas. Groomers will remain on their regular schedules for at least the next week if not two. After that based on traffic demands we will determine how often and where we will groom on a nightly basis. Regardless, on the weekends and days leading up to we will be grooming with as many machines as possible weather and temperature permitting.
If we can keep caught up this week getting everything as flat as we can before the upcoming storm, I'm hoping to send the A Team back to Boundary Pond to increase some groomed mileage where we are limited in some areas. Thank you for your patience."
Respectfully submitted,
Kevin Lassonde Grooming Coordinator
*CLUB NEWS*
Our Melvin stickers continue to be a HOT item at the Warming Hut and they are now available on the PRR website.
The dog sled races have been cancelled along with the Spaghetti Dinner due to snow conditions.
Therefore the Pot Luck dinner and Monthly meeting will take place as originally planned.

UP COMING EVENTS
3/8 – The PRR Monthly Pot Luck dinner at 6:30 followed by the Monthly meeting at 7:30.
3/10 – The Warming Hut, open from 10:00 am to 3:00 pm.
4/12 – Monthly Meeting
From all of us at the club house,
Happy Trails and please ride safely.