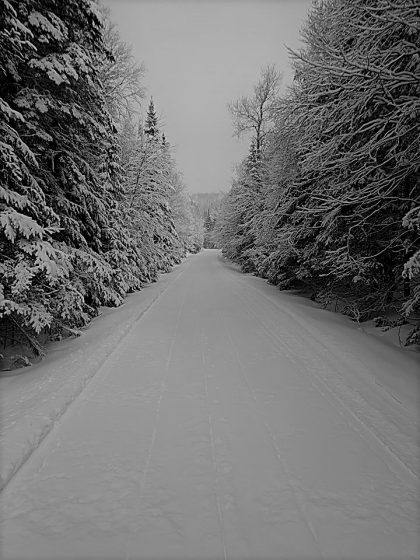 Colleen Koch photo
Hello Snowmobilers,
The Burg's trails are Great!
Here's what riders are saying about their experiences this week……
"Most beautiful ride ever! Trail 141 Indian Stream Gorge. Trail was great and the trees are so gorgeous!" Colleen Koch
"Yep roger that! The carpet was beautiful today! Thanks PRR groomers." Norton Wahoo
"Trails are unreal today!! Thanks to all the groomers!" Jacob Myers
"Hearing great reports on our trails, they can only improve with two more cold nights ahead." Kevin Lassonde, PRRSC Grooming Coordinator
Groomers have been working diligently each night to stay on top of keeping our trails in the best condition possible.
Please be aware of icy corners.
It's going to be a busy place here again this weekend, please everyone ride carefully, be responsible, respectful of others and the land and most of all have fun and enjoy what the great north woods has to offer!!
Don't forget the Ridge Runners annual Turkey dinner is this Saturday night at the clubhouse. This event is a fundraiser for our annual Scholarship awarded to a Pittsburg High School graduate.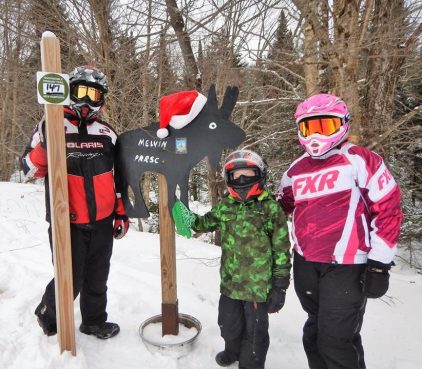 Don't forget about Melvin! Where oh where will he be???
You just might see a few real live "Melvins" also. The Burg's moose are also enjoing the smooth trails. It sure beats walking through that deep crusty snow in the woods. Give them some space if you do see them on the trail.
1/26,27 & 28 – Reciprocity Weekend. Maine, New Hampshire and Vermont open their doors to snowmobilers. With a registration from one of the 3 participating states you can ride in all 3 all weekend.
1/27 – Saturday – The Warming Hut at Deer Mountain Campground on Trail # 5.
1/27 – Annual Turkey Dinner, 5 to 7:00 pm. at the club house.
2/3 – Saturday – The Warming Hut at Deer Mountain Campground on Trail # 5.
2/8 – Thursday -Potluck Dinner & Monthly MeetingStarts: 6:30 pm Ends: 8:30 pm
2/10 – Saturday – 19th Annual North Country Firefighters' Ride-In & Poker Run
From all of us at the club house
Happy Trails and ride safely.