Hello Snowmobilers,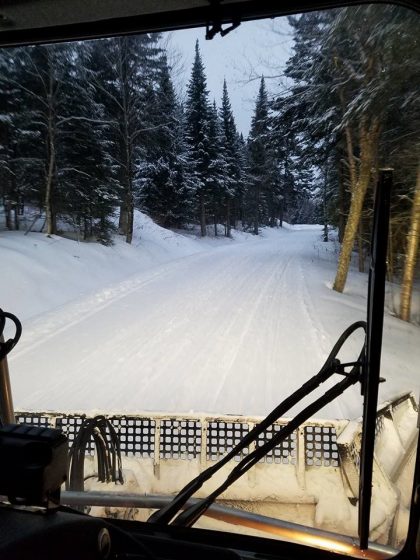 Here is the latest Trail Report from Kevin Lassonde, Grooming Coordinator PRRSC.
"We have received a few inches of new snow over the past few days.
Groomers have been working diligently each night to stay on top of keeping our trails in the best condition possible.
Please be aware of icy corners.
The weather was very favorable to enjoy many miles of great trails Saturday and Sunday. But with warmer temperatures most probably noticed Grooming efforts were slightly hampered because the snow couldn't "set up" or freeze to provide a durable hard surface like we usually have.
But just the same we give it all we can every night. Watching the forecast over the next couple days really don't know how everything will play out. If temps drop early enough and the moisture dries out of the base we will groom each night as usual.
Don't forget the Ridge Runners annual Turkey dinner Saturday night at the clubhouse, this is one of many club events that help to fund this great club and it's Grooming operations.
Ride safe, be considerate of our trails and carry out what you carry in!!"
1/26,27 & 28 – Reciprocity Weekend.
Maine, New Hampshire and Vermont open their doors to snowmobilers. With a registration from one of the 3 participating states you can ride in all 3 all weekend. Before riding in Vermont check out what you need to ride in Vermont.
1/27 – Saturday – The Warming Hut at Deer Mountain Campground on Trail # 5.
1/27 – Annual Turkey Dinner, 5 to 7:00 pm. at the club house.
2/3 – Saturday – The Warming Hut at Deer Mountain Campground on Trail # 5.
2/8 – Thursday -Potluck Dinner & Monthly Meeting
Starts: 6:30 pm
Ends: 8:30 pm
From all of us at the club house
Happy Trails and ride safely.