Hello Snowmobilers,
Incredible turnout for the work party!!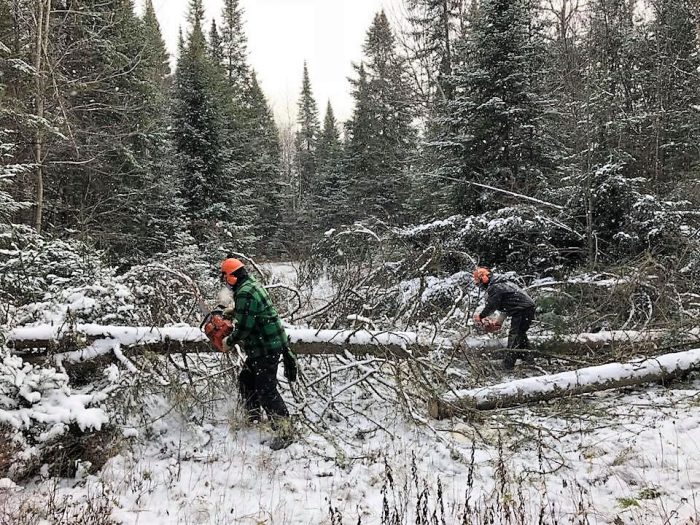 We had over 60 volunteers from near and far arrive at the club house on Saturday morning November 11th to tackle all the downed trees on the snowmobile trails. It was a very cold morning in the Burg, with temperatures only in the teens but everyone got the job done.
It was great to see so many club members rally together.
Super job everyone!!
UP COMINGS EVENTS
This Saturday, November 25th – THE ANNUAL CHRISTMAS CRAFT FAIR at the club house from 10:00 am to 2:00 pm.
Helga is excited about this year's Christmas Craft Fair. There will be lots of beautiful local crafts that will make great holiday gifts. We hope to have a great turn out, and don't forget all proceeds go to the Easter Seals Camp SnoMo. Last year's Craft Fair generated over $4,000!!!
Friday, December 8th; THE ANNUAL LANDOWNER, VOLUTEER & GROOMER DRIVER APPRECIATION BANQUET. Starts: 5:00pm. Location: The Spa Restaurant , West Stewartstown, NH.
RSVP by Friday, December 1st – Call Bev Lord, Secretary PRRSC 603-538-1142 or email, [email protected].

The SNOWMOBILE SAFETY COURSE is on Saturday, January 13th, 9:00am to 4:00pm at the club house.
The safety course is free and lunch will be provided by the club. Students should bring warm outerwear and a helmet. A parent is recommended to attend with their child. You must be 12 years of age before April 1st, 2017 to attend the course. If you have any questions, please call Sue at 603-538-9611.
Saturday, January 13th, THE ANNUAL SNOWMOBILE BLESSING.
Checkout our Events Calendar for details on all the events scheduled for the up coming season.
Winter is right around the corner.
We hope to see you all soon and we wish you a very Happy Thanksgiving.