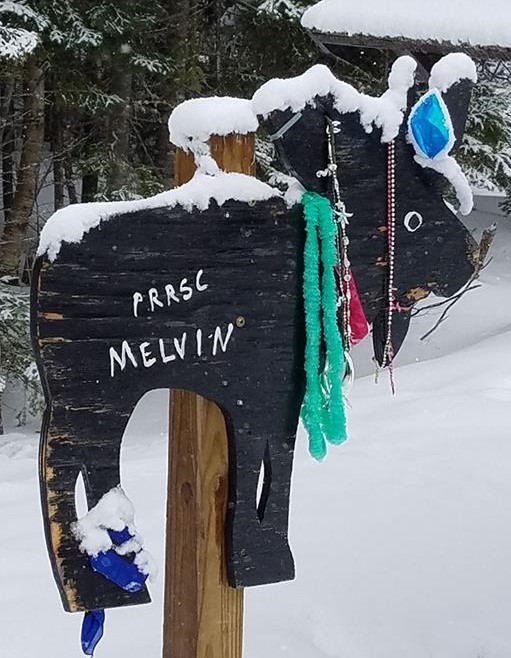 Melvin
In the hills of the burg, they left him go loose
He's made of plywood in the shape of a moose
Melvin's his name and he's there in the day
But at night he runs loose and goes far away
He's there at the corner and makes you stop quick
So you and your group can take a nice pic
Everyone asks, "Where's Melvin today"
We ride and we ride to find Melvin and play
Sometimes he's low and near all the gases
Sometimes he's high and away from the masses
This moose is special and made of spare parts
But in the burg, he is dear to our hearts
-Wayne Koch
Thanks Wayne for you wonderful tribute to Melvin.
Melvin has created so much happiness for so many snowmobilers, young and old alike.
It was quite a year for Melvin with 382 selfies taken! He wore several different hats during the season, received a ginormous diamond ring for Valentine's Day. He was draped in beads for Mardi Gras and wore a green bowler for St. Paddy's Day.
Melvin even went missing one dreadful night but was returned to the Burg safe and sound.
Our season is slowly coming to an end, although there was still plenty of riding this weekend, April 9th.
Very warm temperatures are on the way this week. It looks like Spring will finally arrive in the Burg.
Our last Monthly Meeting for the winter season is this Thursday, April 13th at 7:30 at the club house. We hope to see some of you there.
We would like to thank everyone for a great season. We had lots of support from club members, our fantastic volunteers and all of the visitors that love to Ride the Burg! Thanks for your generousity at all of the club events, at the Warming Hut and of course all of the generous donations.
Thanks You all!!
Have a wonderful summer and we will see you all again next season.
Happy Trails!