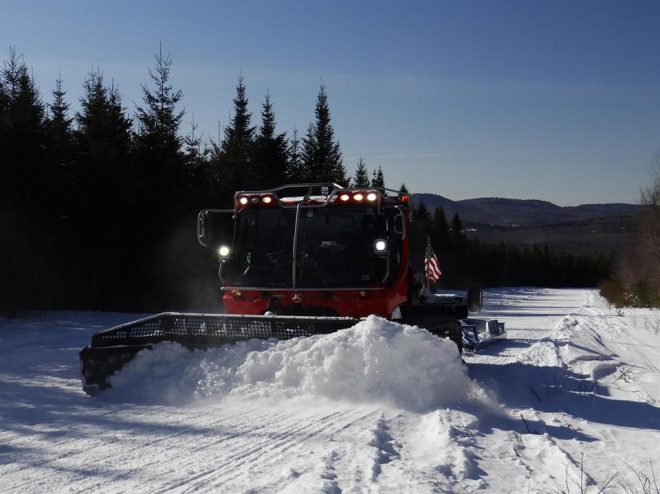 It's been pretty quite around here this week… not much traffic on the trails.
We are forecasted to get another 3 to 6 inches of snow starting on Friday through Saturday.

Two PRR groomers will be going out on Friday night and that will be the end of grooming. Our trails will still be open and we will let you know when the trails close.
Trail Report
There's nothing better then getting a trail report from a snowmobiler. Here is Michael Wetherbee's trail report that was posted on our Facebook page on Tuesday, March 28th.
Thanks for the report Michael.
"Today I got in 100 miles….I was thankful for having good carbides so I could turn, studs so I could stop and corner safely, and scratchers because without them I overheated. I hit places I hadn't been, stub hill pond, boundary pond, and old favorites….diamond ridge and the fire tower! And of course I found Melvin! The weather was not ideal but I was riding! I did not ride across the lakes and have no idea if they are safe….here is what I found for trail conditions….I parked just north of youngs….trail 146 to trail 139 was ok, a bit thin and snirty in places….trail 139 was ok to trail 140. 112 between 140 and rt 3 is EXTREMELY icy! 112 south was great! 143 was great! The parts of 20 I rode were great! 144, 145, and the boundary pond trail were all some of the best riding Ive had this year. Corridor 5 is getting a little choppy in places but not horrible. With the warming and rain throughout the morning, the trails south of magolloway road really suffered. You can certainly ride from youngs but I would recommend parking further north. All in all it was a great 100 miles….and I certainly can't forget to mention the great cheeseburger I just had at treats and treasures before I begin the 4hr ride home…."
There is still plenty of snow up here with more on the way.
Come on up and have fun on the trails. Please ride safely.