This Saturday, and the next few weekends will be busy times in Pittsburg!
We have The Blessing of the Sleds (1/14) at Granite State Power Equipment (Arctic Cat Dealer) from 9am to 11am.
Then, next weekend (1/21& 22), you can ride all the Quebec trails without a trail pass.
If you ever wanted to give Quebec a try…it'll never be any cheaper! All you need is your Passport and proof of insurance.
On the 27th, 28th & 29th it's Tri-State Reciprocity. Ride ME, NH, & VT if your sled is registered in any of the three. Proof of insurance is required in Vermont.
On Saturday night the 28th The PRR Turkey Dinner is on and after dinner, there will be fireworks at Murphy Dam at 8pm! Whew…I'm tired already!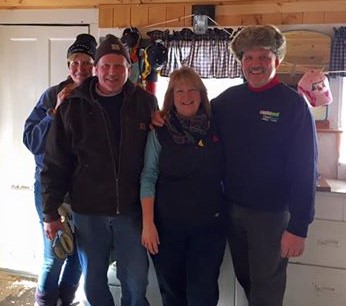 Did I mention that The PRR Warming Hut will be open this and every Saturday from 10am to 3pm, thru the rest of riding season? You asked for Chili…we got Chili…2 kinds, White bean & Chicken Chili from Tall Timber and Hut Hosts Terry & Cathy are making Venison Chili! We will have Turkey Soup, the best "Hut Dogs" in The GNW, fresh baked cookies, candies, snacks, hot & cold drinks and lots of fun! We have PRR 50th Anniversary Hats, sweatshirts and t-shirts, raffle tickets and lots more.
So if you're enjoying the best trails in NH (The PRR Trails, of course), stop by The Hut for a drink, snack, lunch or just warm up and say hi! Cathy, Terry, Sue and I will have the heat on for you!