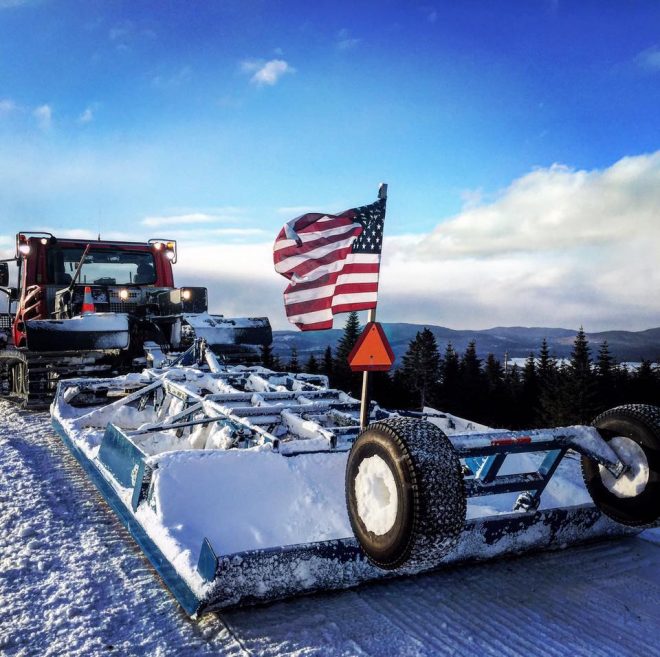 Hello Snowmobilers,
Revised Newsletter –
HAPPY NEW YEAR!
HOT OFF THE PRESS –
We will open most of our trails tomorrow Thursday, January 6th.
Trail conditions are limited, with poor to fair trails south of Magalloway Rd.Trails north of Magalloway Rd, East and West have fair to good conditions.Cor. 20 south from Pittsburg village to Canaan VT will remain closed due to lack of snow cover.Trail 142 north & south of the Route 3, Lake Francis boat ramp, is not groomed and pass at your own risk.
Riders should use caution everywhere.Please take it easy out there.Watch out for water bars and rocks.

Expect early season conditions.

The Warming Hut will be open at the Club House starting this Saturday from 10am to 3pm.
Please note the change of venue of the Warming Hut this year will be at the Ridge Runners Club House.
Also, this Saturday is the8th Annual Snowmobile Blessing
More info on all the up coming events below.

Upcoming Events –

1/8 – Saturday, the 8th Annual Snowmobile Blessing at Granite State Power – Arctic Cat, from 9 to 11 AM.
1/13 – Thursday, Pot Luck Dinner 6:30, followed by the Monthly Meeting – 7:30
1/22 – Saturday, Christopher James Myotte Memorial Ride. Fifty mile snowmobile ride starts and finishes at the PRR Club House, BBQ lunch available and lots of Raffle items. Ride to benefit Camp Sno-Mo. Great Family Fun!
1/22 – Raffle Winners will be announced for the Camp-Mo Raffle Fund Raiser after the Memorial Ride. Raffle tickets are still available.
1/29 – Saturday, The Annual Turkey Dinner. There will be 3 seating times – 4 to 5, 5 to 6, & 6 to 7pm. Take-Out will be available. Reservations are required RSVP Diane at the Club House, mornings – 603-538-1142
2/4, 5, & 6th – VT Free Snowmobile Weekend
2/8 – Thursday, Pot Luck Dinner 6:30, followed by the Monthly Meeting – 7:30
2/12 – Saturday, Back Lake Shoot Out Snowmobile Races
2/19 – Saturday – Goldenchild Back Lake Nationals Races
2/20 – Sunday –SSgt. Jesse Sherrill Memorial Snowmobile Run.
2/26 – Saturday, PHS Poker Run, – 8:00am – 3:00pm. Starts at Young's Store, ends at the Club House.

2/26 – Saturday, The Annual Steak Feed & Sled Raffle, 4 to 7 pm at the Club House.
3/4, 5 & 6th, NH Free Snowmobile Weekend
3/5 – Saturday, Parade of Lights


The Warming Hut is open every Saturday starting in January to mid March, at the PRR Club House.

Looking forward to seeing you all very soon. Stay safe & Think Snow!!!