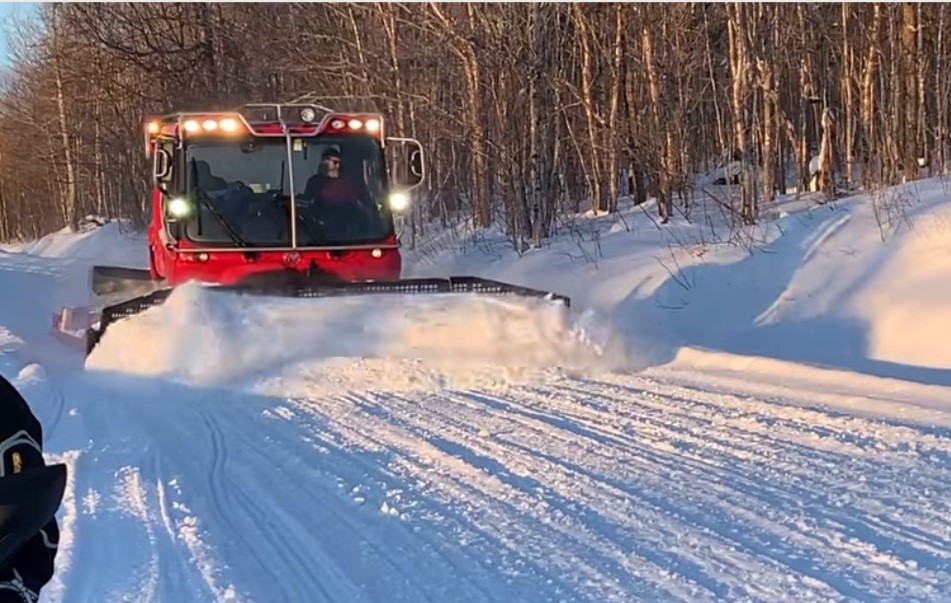 We are into the second vacation week, and we have lots of riders enjoying the trails. The weather forecast is looking good all week with milder temperatures providing more enjoyable riding.
With the mild daytime temperatures, the trails can get chewed up, especially during a heavy traffic week like school vacation week.
The groomers will work their magic, and the cold nights will help set up the trails for the next day.
Trail Conditions: 
South of Back Lake, Pittsburg Village and to Vermont- Good to Very Good.
Back Lake to First Connecticut Lake – Very Good to Excellent
All Points North, West and East – Very Good to Excellent
We have received 3 to 4 inches of new snow this week, and a couple of the groomer operators have reported 8 to 10 inches of new snow around the Stub Hill area, towards Maine and in higher elevations.
The groomers will be out there nightly, and our weather forecast is calling for more snow flurries today, tomorrow and possibly more snow on Saturday.
This Saturday, Feb. 27th the Annual Snowmobile Raffle Drawing will be LIVE on The Club's Facebook Page , at 4:00 PM. Tune in!
All tickets are sold!!!
Thanks everyone for your support.
Wishing everyone a great week.
Have fun and ride safe."
Kevin Lassonde, PRRSC Grooming Coordinator
There are lots of fun things happening the next several weeks, starting this weekend with exciting drag races on Back Lake, and the Annual Snowmobile Raffle Winner will be announced.
In March we have The Parade of Lights, the Open Snowmobile Weekend in NH & Maine, and NEW this year will be the 1st Annual Vintage Snowmobile Ride-In.
Check out the links below.
Up Coming Events
3/11 – Thursday, Monthly Club Meeting – 7:30 PM at the Club House
4/8 – Thursday, Annual Club Meeting and Club Elections, 7:30 PM at the Club House
Have fun out there, slow down, and enjoy the trails.
PRRSC