Kevin's Trail Report –
Our trail system is in great shape. We picked up 3 to 4 inches in the last 24 hours of light fluffy snow.
Three groomers have been going out each night basically maintaining and making a hard base on the trails. We still have a groomer down. Hopefully we will have it up and running soon.
The groomer operators have been reporting great to excellent conditions, and lots of riders have been reporting great riding as well on Social media.
Trail Conditions – the south end of our trail system is Good. Trail 20 south to VT has much improved with our Pittsburg Flurries.
Conditions in the Back Lake hub area are Good to Very Good. There are still a few rocks poking through.
Conditions from First Ct Lake and north are Very Good to Excellent!
Our weather forecast is showing flurries for Thursday and Friday and really cold temps for Friday and Saturday.
Cold temperatures will be great for the trails. They will set up hard after the night grooming and should hold up better with the weekend traffic.
It should be a great weekend. Come on up and enjoy the great snowmobiling. Please visit our local businesses, they would love to see you.
Please be careful out there, keep to the right and lets have a great, safe weekend.
For Kevin's full video report on Facebook, see it here.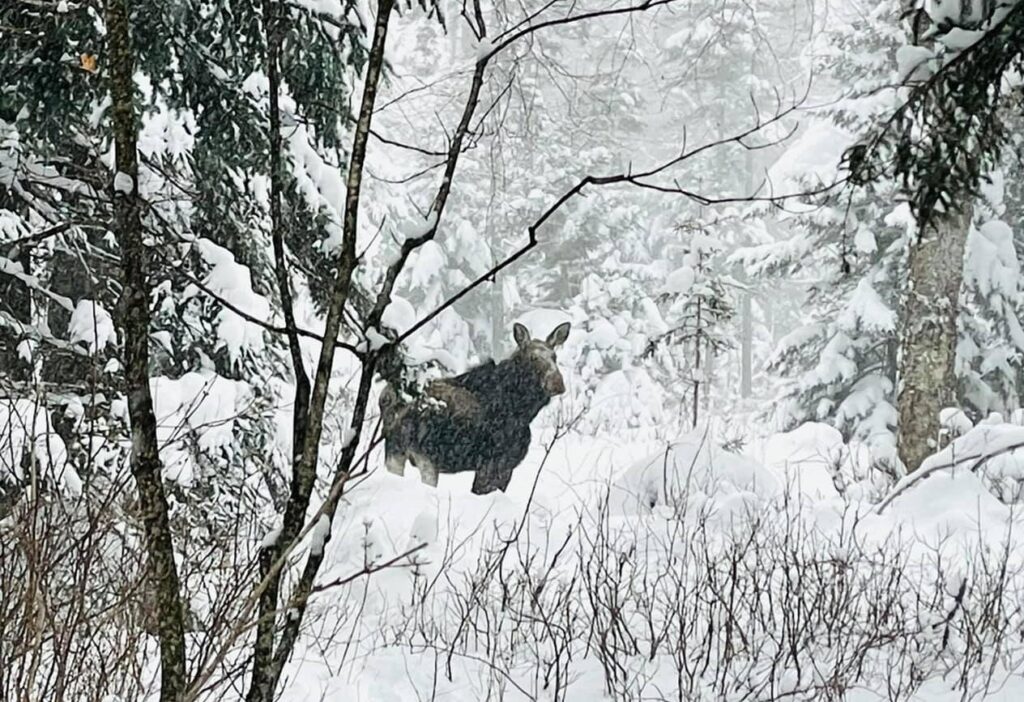 Pittsburg Moose Photo by Vicki Rosko
The wildlife sightings has been amazing with moose, lots of whitetails and hungry gray jays.
CLUB NEWS –
We still have raffle tickets for our Snowmobile Raffle which will be drawn in a few weeks. You can buy your tickets at Young's Store, many of the local business/lodges and at the Club House, Monday thru Friday, mornings 8 to 11 AM.
This year because of Covid-19, our usual fundraising was done a little differently. We were unable to do our Christmas Craft Fair, but we were able to do the Bake Sale in October which was very successful. Corinne Howland continued finding ways to fundraise with a raffle and lots of telephone calls to our generous club members.
The Raffle Winners:
100 gals of heating oil from C Bean. Kinley Borders
Northstar cooler from Polaris Industries. Kathy Anderson
$100 visa gift card from Ramblewood Cabins. Toby Owen
We would like to thank our raffle donors for their support.
The Pittsburg Ridge Runners 2021 donation to Camp Sno Mo is a whopping $9,430.
We would like to thank everyone for their incredible generosity. Also, a huge Thank You to Corinne for her dedication to this fundraiser for the kids at Camp Sno Mo.
Up Coming Events
VT's Open Snowmobile Weekend – February 5, 6, 7th 2021, Insurance requirements
2/11 – Thursday, Monthly Club Meeting – 7:30 PM at the Club House
2/13 – Saturday, Back Lake Shoot Out Races – at 11:00 AM
2/27 – Saturday, Golden Child Back Lake Races
NH's Open Snowmobile Weekend – March 5, 6 & 7th 2021
Maine's Open Snowmobile Weekend – March 5, 6, 7th 2021
3/6 – The Parade of Lights – ?? A decision will be made in a week or so about this event.
3/11 – Thursday, Monthly Club Meeting – 7:30 PM at the Club House
Have fun out there, slow down, and enjoy the ride.