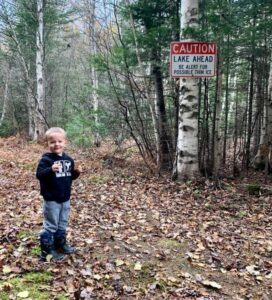 That's 2-1/2 year old Dylan Webber helping out with trail work. Dylan brought his dad Justin along also.
We start em young up here. Perhaps a future trail boss?
November Monthly Meeting
Diane, our club secretary provided the YTD club membership numbers and raffle tickets sold. All the numbers were ahead of last year.
1,449 individual members
62 business members
665 snowmobile raffle tickets sold
Curt discussed some of the trail changes for this winter and advised the membership that the new trail map is at the printers, and it will be ready sometime in December.
We had a great turnout for our Trail Work Party on Saturday, Oct.24th, and lots of trail work was accomplished. Thanks to everyone that came up to help out. Great job!
Our new drag has been delivered and Richard Howland, our groomer mechanic is hard at work getting our groomer fleet ready to roll.
A new shipping container was delivered last week which will provide much needed extra storage.
We received a 3 bay sink for our club house kitchen and a set of carving knives donated by Mark & Sandy Klose. We decided that the kitchen needed a kitchen counter upgrade to go along with the new sink. These upgrades were greatly needed and we would like to thank Mark & Sandy for their generous donation. Photos to follow.
News on the Warming Hut etc…..
Because of Covid-19, the Warming Hut will not be possible this winter.
Also, it has been decided to cancel the Turkey Feed in January and the Steak Feed in February. Social distancing in the club house would be impossible and our main concern is the safety of our volunteers and club members.
There are several events still being planned for this winter.
Covid-19 may affect these events.
We will need to wait and see.
Feb. 13th – 22nd Annual Firefighters Ride-In & Poker Run
March 5,6 & 7 – NH Open Snowmobile Weekend
March 6th – The Parade of Lights
The Camp Sno-Mo Raffle tickets are still available and can be purchased at Ramblewood Cabins, Green Acres Country Store and Tall Timber Lodge. The drawing is January 23rd, 2021.
Thursday, December 10th – Monthly Meeting, 7:30
Looking forward to seeing you all soon.
Think Snow!