Trail Report 1/27/20
"Warmer temperatures and a little rain and snow Saturday night definitely caused the system to take a beating from yet another crazy busy weekend in Pittsburg.
Groomers were out Saturday night until mother nature shut them down around midnight.
We made an attempt last night but the moisture content and temperature once again shut us down.
We will have two machines out tonight and three tomorrow night.
Hopefully the temps drop as predicted and things will continue to shape up as the days go on.
About 4″ of new heavy wet snow fell overnight.
Conditions range from good to excellent south to north.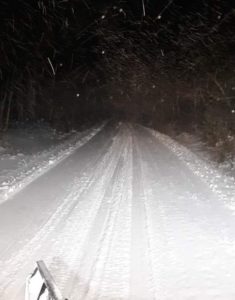 This photo was taken by David Ainsworth GR-9 on Saturday night."
Kevin Lassonde grooming coordinator PRRSC.