"The weather is starting to be in our favor.
According to the groomer operators we received 3-5 inches last night (Saturday) and a Tuesday-Wednesday storm has early predictions of possibly 6-10″. Winter has arrived!
Plans are to start our regular grooming schedule on Monday night.
We will continue to groom all trails that have enough snow cover to warrant grooming.
Enjoy your week and we hope your next visit will greet you with much better conditions than the past few weeks.
Next report will most likely be Thursday."
Kevin Lassonde, Grooming Coordinator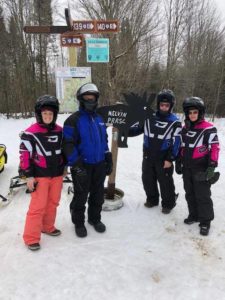 Snowmobilers this past weekend had fun finding Melvin and posting their photos on our Facebook Page. 
Did you notice the new trail signs in that picture? We've heard great reports from riders that the new trail signs look great and are much more visible.
What's happening this week in Pittsburg-
Thursday – Pot Luck Dinner & Monthly Meeting at the Club House.  The Pot Luck Dinner starts at 6:30 then followed by the monthly meeting at 7:30.
Saturday – The 7th Annual Snowmobile Blessing, at Granite State Power Arctic Cat- 9 to 11 am.
Saturday – The Warming Hut opens – Deer Mountain Campground, 10:00 am to 3:00 pm.
Have fun on the trails and ride safe.