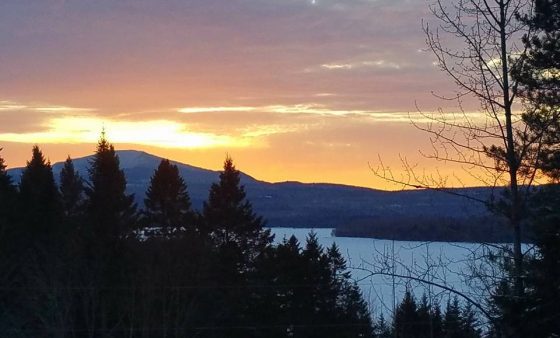 Hello Snowmobilers,
We hope you had a wonderful summer. It was a hot one even in Pittsburg. Our Fall foliage has peaked and is falling fast.
It won't be long before the "white stuff" will be falling.
News from the October monthly meeting –
"All the drags have a fresh coat of paint thanks to a crew of 7 that volunteered their time on Sept. 29th.
Thank you Kevin Lacasse, Dave Lawrence, Kevin Keenan, Bob Cruikshank, Harry Littlefield, Dave Ainsworth for helping me."
Curt Shaw, Club President.
The Club had a booth at the NHSA Grass Drags on Columbus Day Weekend. Thank you Justin Webber and all the volunteers that helped out all weekend selling memberships, raffle tickets and PRR swag totaling $2,400.
Also, on that holiday weekend Corinne Howland organized a very successful Bake Sale held at Young's Store which was a fund raiser for Easter Seals Camp Sno Mo.
If you've never heard of Camp Sno Mo, here's a look at this very special summer camp featured on WMUR's NH Chronical.
Thank you Corinne and all the bakers who helped raise $1,030.
Nice job everyone!
Reciprocity Weekend???
Many of you have asked on social media what is happening this season with Reciprocity Weekend.
Here's the full story from NHSA.
Reciprocity Weekend has ended but the Free Weekend in Maine and VT the first weekend in February sounds like a win/win for NH registered riders.
Changes with the Snodeo
The North Country Chamber of Commerce will host the NEW GoNorth Snowfest formerly the Snodeo. Save the date and check it out here.
UP COMING EVENTS
Thursday, Nov.8th – Monthly Meeting, 7:30pmSaturday,
Saturday, Nov. 24th – Annual Christmas Craft Fair to benefit Camp Sno-Mo
Friday, Dec. 14th -Annual Landowner, Volunteer and Groomer Driver Appreciation Dinner.
Saturday, Dec. 29th -Snowmobile Safety Course, 9:00am to 3:00pm. The safety course is free and lunch will be provided by the club. Students should bring warm outerwear and a helmet. A parent is encouraged to attend with their child. You must be 12 years of age before April 1st, 2019 to attend the course. If you have any questions, please call Sue at 603-538-9611.
See you all soon and
Think Snow!