HAPPY EASTER!
Dina Adam photo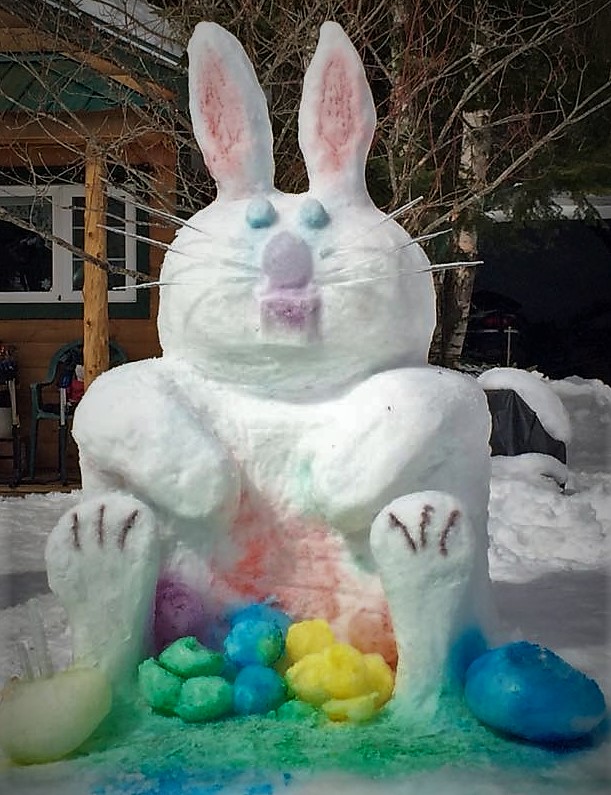 Here's the latest trail report –
"I'm sure most people are wondering how much longer we're going to be able to go. We groomed last night and two groomers will be out tonight.
After that we will have approximately 40 to 50 grant-in-aid hours left which will hold us for the weekend to do final cleanup runs if the weather will allow us to do that.
Overall I would say most of the conditions are good to excellent there are some areas that we did not get cleaned up last night that we are going to do tonight so that they'll be ready and good for the rest of the week.
We have mild temperatures and lots of sunshine for a couple of days which will bring on spring conditions especially in the high traffic areas.
Conditions from First Lake north, east and west, the higher elevations should remain good to excellent with good to very good snow cover.
Once the final grooming runs have been made at the end of the week or on the weekend we will be bringing the two bullies stationed at the Magalloway Road back to the groomer garage at the Ridge Runners club house.
Come on up to Pittsburg and enjoy some great spring riding with beautiful blue skies and comfortable temperatures.
I will do a final trail report sometime at the end of this week when I know better what the plan is going to be for grooming over the weekend. "
Kevin Lassonde, Grooming Coordinator.