Here's the latest Trail Report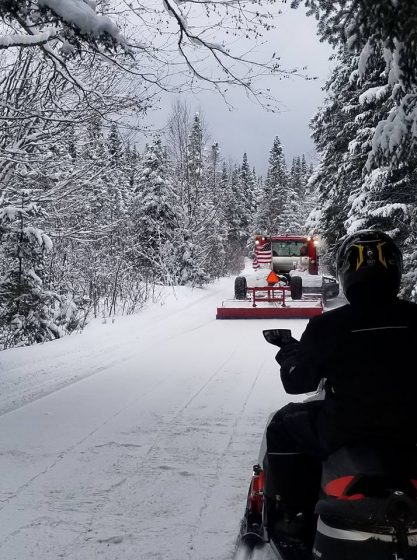 Smooth Riding
Photo Becky Roberts
"Up until this morning we had pretty much completely recovered from the most recent 12 to 16 inch snow storm that we had received. Groomers have been out running every night packing and grooming all the trails wide and flat.
As of this morning another Nor'easter has started dumping snow in our area. Snow totals as of right now are four to five inches with 16″ or so predicted.
Groomers will be out tonight through the storm trying to keep ahead of it in many areas and will continue that way for the rest of the week.
With any luck the temperatures are going to be much colder at night so once the snow has stopped it will be packed down and freeze to a better groomable surface.
Seems as though we're getting all of the snow in March that we should have gotten in January and February. Small doses are so much better than these large dumpings that we're going to get, but beggars can't be choosers!!"
ATTENTION RIDERS
Once again we must send out the warning to all snowmobilers that any off trail riding is off-limits.
Our largest landowner that owns most of the Timber Company property on our system is closely monitoring what's taking place off trail on their property.
We know that law enforcement is assisting with trying to stop the off trail riding by issuing warnings and tickets but they can't patrol all of the land there is.
All we ask is that people be respectful of all of the landowners regardless public, private, small or large. Please stay on the trail where you belong!!
The club cannot afford to lose even one landowner that 50 ft of our Trail crosses, let alone a landowner that has miles and miles of trail that runs through their property.