Hello Snowmobilers,
Here's the latest TRAIL REPORT –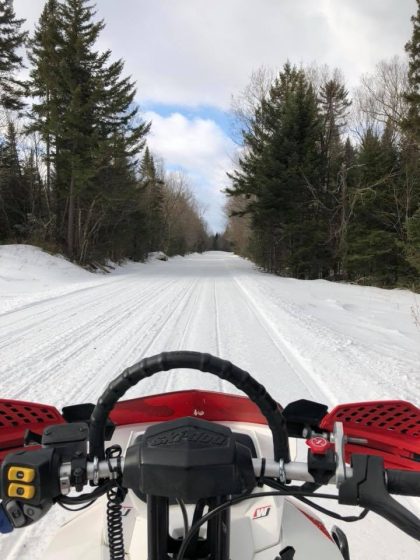 Steve Laferriere photo
"Good news, our trail conditions continue to improve as the team of operators work their magic.
Conditions south of Back Lake are fair to good. Conditions around Back Lake are good to excellent with good snow cover.
All other trails northwest and northeast I would rate as good to excellent. Warmer daytime temperatures are predicted this week but will drop drastically at night. With that being said, groomers will be operating each night unless something changes for the worse. Watch for icy corners.
Please come and enjoy everything Pittsburg has to offer this week.
Ride safe, keep to the right and as always watch for the groomer!!!"
Respectfully submitted,
Kevin Lassonde Grooming Coordinator
*CLUB NEWS*
Last Saturday was a very busy and successful day for the Pittsburg Ridge Runners.
The Warming Hut was super busy on Saturday and the Steak Feed was huge!
And….The winner of the 2018 SkiDoo was
Jeff Napoli from Shirley MA. Congratulations Jeff!!

Four groomer Ride-alongs were auctioned off to the highest bidders.
Monster Gear donated by club member Jon Bevins were auctioned as well. There were two snowboards, a wicked cool helmet, a cooler and lots of other Monster Gear swag.
Thank you Jon and everyone that bid on the auction which brought in a nice chunk of change to keep those groomers rolling.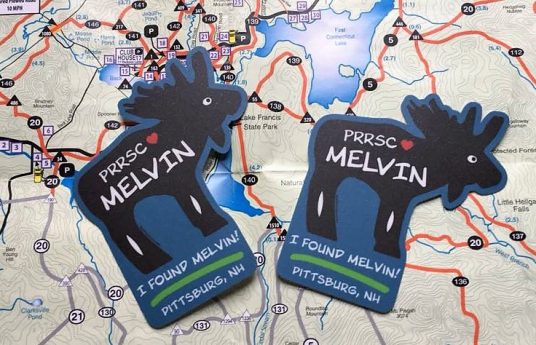 Our Melvin stickers were introduced on Saturday at the Warming Hut and at the Steak Feed.
They sold out!!
Another order is in the works so stay tuned. We will have them on the website soon.
Check it out this Friday & Saturday, March 2nd & 3rd – the Swift Diamond Riders 26th Annual SNODEO.
March 8th – The PRR Monthly Pot Luck dinner has been changed to a Spaghetti Dinner to welcome the dog sled teams that will be racing in Pittsburg the following day. The spaghetti dinner is from 6 to 7:00 pm, it is open to the public and the cost is $10 per person. The dinner is a benefit for the Pittsburg High School Class of 2020. The March Monthly Meeting will follow the dinner at 7:30 pm.
From all of us at the club house,
Happy Trails and please ride safely.