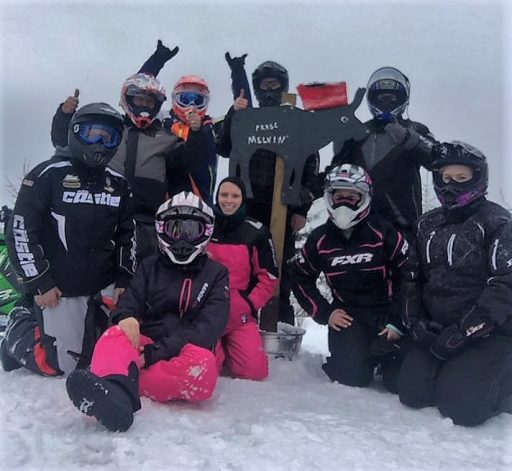 " Trails are Great!!"
Hello Snowmobilers,
Our trail system is in great shape with Very Good to Excellent conditions on most of our trails. The Burg picked up an additional 3 to 4 inches of snow yesterday and we should get more on Friday. Our groomers have been going out nightly and they have done a fabulous job out there.
There may be some icy corners so please use caution.
What's happening in the Burg this weekend you ask….Check it out.
Friday, Saturday & Sunday – Reciprocity Weekend
Saturday – The Warming Hut at Deer Mtn. will be open from 10 to 3.
Saturday night – The Annual Turkey Dinner – 5:00 to 7:00 pm, at the PRRSC club house.
Saturday night –Fantastic Fireworks Display !! 8:00pm at Murphy Dam. If you go by vehicle, be sure to set your radio to 91.1 FM for simulcast music. Remember last years fireworks were set to the new Star Wars theme. It was awesome! Can't wait to see what the folks at JPI Pyrotechnics have created this time. www.jpipyro.com
Current Trail Conditions
Corridor 5 from the Canadian border to all trails East of Route 3.
Trails 145,144, 143, 112, 136 Very Good to Excellent Groomed 18+ "
Deer Mtn-Trail 141 to all trails West of Route 3.
Trails 140 Very Good to Excellent Groomed 18+ "
West side of Perry Stream
Trail 147 Very Good to Excellent Groomed 18 +"
Magalloway to 1st Ct Lake
Trails 112, Cor. 5 & 20, 138, 139 Very Good to Excellent Groomed 12″+
1st CT Lake to Back Lake
Trails 147, 141,142,146 Great to Good Groomed 12″+
South of Back Lake to Pittsburg Village
Trails 142, 146, Cor. 20 Fair to Good Groomed 12+"
Pittsburg Village to Beecher Falls,VT.
Trails Cor. 20 Fair to Good Groomed 12+"
Malvina Loop
Excellent Groomed.12 to 18+ "
UPCOMING EVENTS
February 9 – Pot Luck Dinner & Monthly Meeting, starts: 6:30 pm ends: 8:30 pm
February 11th – 18th Annual North Country Firefighters' Ride In & Poker Run
Starts: 8:00 am
Ends: 4:00 pm
For more Event details, click here.
Have fun out on the trails and ride safe.
The Warming Hut is made possible with the cooperation of NH Parks & Recreation.