Hello Snowmobilers,
The Burg's Snowmobile Trails opened last Saturday, and we picked up another 3 to 8 inches of snow on Sunday night into Monday morning. The groomers have been out just about daily packing trails, clearing trails of blow downs and filling water bars. The trails are shaping up very good, and the cold temps for Thursday will help freeze some of the problem areas.
Just about all of the trails from Back Lake north have been groomed and they will all be groomed again for the coming weekend.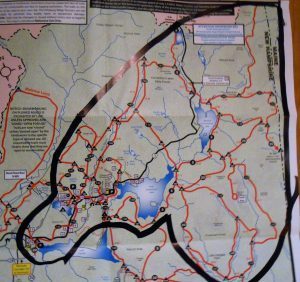 The SnowmobileTrails within the black marker on the map above are open, which is 90% of our trail system.
CLOSED TRAILS
Shatney Mountain, Trail 146 and Corridor Trail 20 to the west and south are closed.
There is no access to the south of Pittsburg due to logging.
Trail 140 from Junction 22 at Carr Ridge is closed for the season due to severe tornado damage.
The Cedar Stream area Trails are closed due to logging activity.
Corridor 5 from South Bay Junction 420 is temporarily closed as is Corridor 20 from Junction 3130 at Trail 137.
Trail 137 is open to Junction 3092 at Trail 112 which is closed to the south.
Active logging is taking place in some of these areas so PLEASE do not ride in closed areas.
We will post a revised trail report when any of these trails open.
CURRENT TRAIL CONDITIONS & SNOW DEPTH
Canadian border to East Inlet

Good to Very Good – Groomed – 12 +"

East Inlet to Magalloway
Good to Very Good – Groomed – 12 +"
Deer Mtn. to Perry Stream
Good to Very Good – Groomed – 12 +"
West side of Perry Stream
Good to Very Good – Groomed – 12″
Magalloway to 1st CT Lake
Good to Very Good – Groomed – 12″
1st CT Lake to Back Lake
Fair to Good – Groomed – 12″
South of Back Lake to Pittsburg Village
Fair – Ungroomed – 10″
Pittsburg Village to Beecher Falls,VT/ Halls Stream
Fair – Ungroomed – 8+"
Access to services is available, however as mentioned above snow is limited in service areas therefore trailering is recommended. Parking is available at Coon Brook/Magalloway Road and Deer Mountain/East Inlet as usual.
Please use caution on the trails. It is possible that blockages/blow downs and water bars will be encountered.
The big lakes have some open water and the lakes that have a layer of ice are NOT SAFE.
PLEASE STAY OFF THE LAKES.
Have fun out there and ride safe.