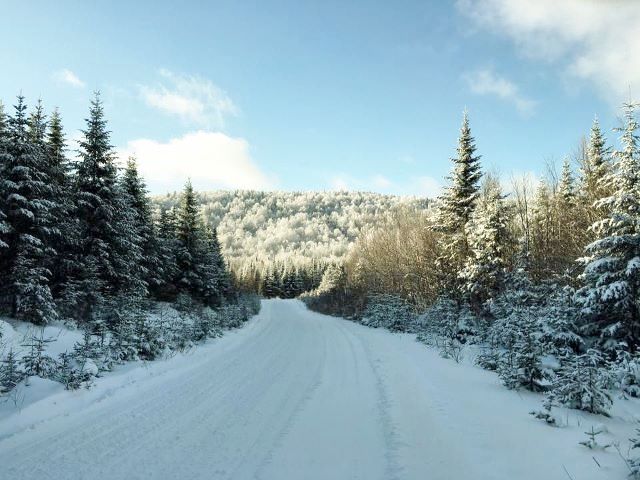 The entire PRR trail system is groomed and our grooming crew is giving the trails a big   "2 Thumbs Up".
Also, the Malvina Loop Trail is now OPEN and groomed.
We received another 3+ inches of snow since
Tuesday
and the flurries just keep falling.
Our weather forecast is looking great for the weekend continuing right into next week.
The Warming Hut will be open
this Saturday
10 to 3. Come hang out  with Sue, Bob & Kara. They'll be serving up hot soups, "Hut" dogs and more.
 *****Caution*****              There is a pressure ridge developing on 1st CT Lake across from The Glen.
Please use caution on all of the big lakes.
Come on up to the Burg and ride the best trails around.
1/23 – Vintage Race, 1st in the Series, Groveton NH.
1/30 – **Reciprocity Weekend; ME, NH, VT
1/30 – Snowmobile Blessing
1/30- New Year's Turkey Feed
1/30- Fireworks Display at Murphy Dam – 8:00PM
**Just a friendly reminder on Reciprocity Weekend.
Vermont and Maine snowmobile laws and rules must be complied with, including Vermont mandatory liability insurance, youth requirements, and safety card requirement for those born after
July 1
, 1983.
| | |
| --- | --- |
| Boundary Pond Jct. 918 to pond | Groomed |
| 144 Jct. 707 E. Inlet to 538 Moose Brook/2nd Lake | Groomed |
| 145 E. Inlet Jct. 296 to 707 | Groomed |
| 5 Jct. 455 to Canada | Groomed |
| 141 Perry Jct. 1734 over Deer Mtn to 455 to Canada | Groomed |
| 5 Smith Brook Camps Jct. 507 to 455 Canada/Deer Mtn | Groomed |
| 5 Smith Brook Jct 243 at Mag to 507 Camps | Groomed |
| 20 Jct 1354 to Maine border | Groomed |
| 20 Smith Brook Jct 532 Camps to Jct 1354 Tin Camp | Groomed |
| 20 Coosie Brook @ Mag Jct 581 to 532 Smith Brook | Groomed |
| 143 Camp 8 Jct 588 to jct 2226 | Groomed |
| 143 middle branch Jct 533 to 1776 | Groomed |
| 137 west branch to 112, Jct. 3092 | Groomed |
| 112 Magalloway Rte 3 to Jct 446 South Bay | Groomed |
| 112 Magalloway Jct 3092 to Jct 448 South Bay | Groomed |
| 112 Magalloway/4 mile Jct 1052 to 3092 | Groomed |
| 137, Jct. 3130 to 112, Jct. 3092 | Groomed |
| 112, Jct. 3092 to Jct. 2226 Garfield Falls | Groomed |
| 136 Pisgah Jct 2440 to 1052 Magalloway/4 mile Errol | Groomed |
| 20 Cedar from Jct 1921 Pierces to 581 Magalloway | Groomed |
| 140 Mckeags trail Jct 22 Carr Ridge to Jct 1921Pierces | Groomed |
| 5 Pierces/South Bay Jct 1921 to 446 Magalloway | Groomed |
| Malvina Loop Jct 194 Shatney around loop | Groomed |
| 140/138/139 from Young's Store Jct 131 to 420 South Bay | Groomed |
| 141 Young's field Jct 131 to Jct 132 | Groomed |
| 139 Rte 3 Lopstick to Jct 139 @ River Rd | Groomed |
| 139 Ramblewood from Perry Jct 174 to Lopstick | Groomed |
| 140 Perry Jct 1096/112 Klondike to Jct 4020 Magalloway Rte 3 | Groomed |
| 140 Perry Jct 341 to 35 Perry Deer Mtn | Groomed |
| 140 Mtn. View Jct 131 to 341 Farr Rd. Perry | Groomed |
| 142/147 West Perry Jct 409 Farr Rd to 35 | Groomed |
| 141 Indian from Jct 2684 Roaring Brook to 35 Perry | Closed for season Logging |
| Cowan hill loop jct 377 4 corners to 701 west Perry | Groomed |
| 142 Terrell Pond/ Halls Stream Jct 2967 to 1080 | Closed for season Logging |
| 142 Roaring Brook from Jct 543 W Perry to Jct 2684 Indian | Closed for season Logging |
| 141 from Clubhouse Jct 163 to 4 Corners 377 | Groomed |
| 142 from Jct 14 behind Yamaha to Jct 409 at gravel pit | OPEN plowed shared road 20 mph |
| 142 Village from Jct 486 to 163 Village | Groomed |
| 146 Shatney from Jct 486 to 217 | Groomed |
| 20 Halls Stream from Jct 486 to Jct 2572 | Closed |